Responsive Security Partner Key for Iowa County and its Historic Courthouse
Background
Marshall County is located in Central Iowa with just over 40,000 residents. Its 132-year-old County Courthouse is located in the County seat of Marshalltown. The limestone Courthouse is five stories and is listed on the National Register of Historic places.
In 2017, Lucas Baedke, Building and Grounds Director for Marshall County, sought a new security integrator for the Courthouse and several other buildings the County maintains, including a 178-bed County jail.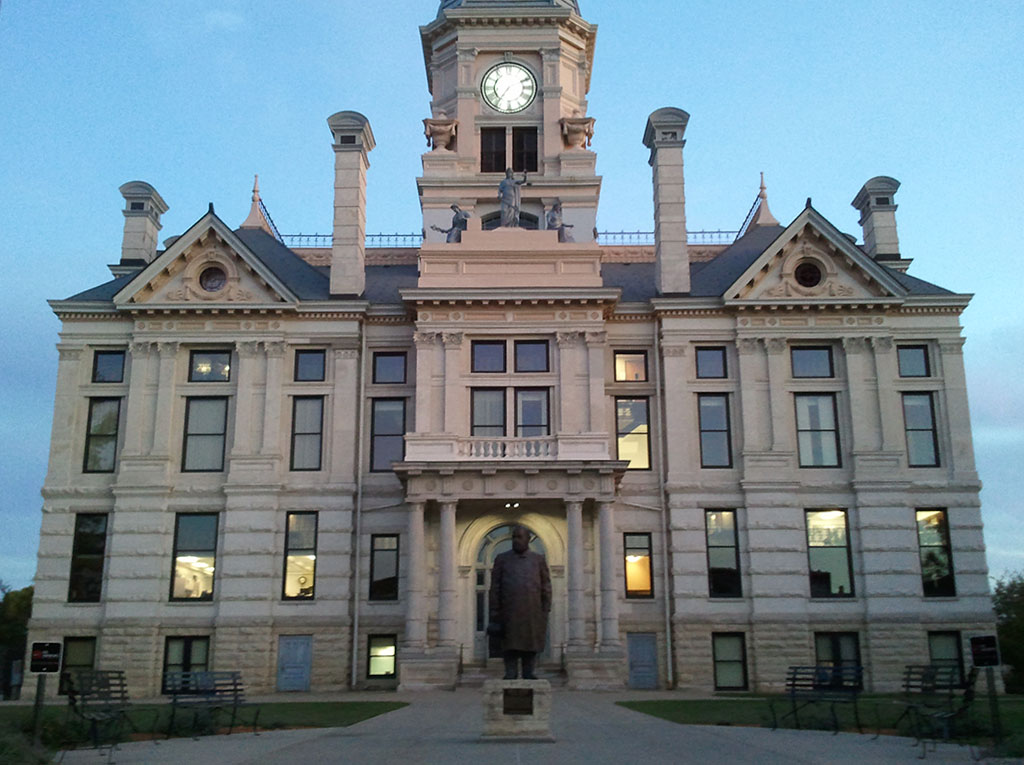 See how our integrated solutions will make a difference in your physical security needs. Contact us for a free demo.
Challenge
Baedke considers Marshall County ahead of the curve having invested in state-of-the-art Avigilon security cameras and access control systems for its historic County courthouse. However, Baedke was not satisfied with the level of service from the County's existing security integrator and desired better communication and partnership to help the rural Iowa County expand its security network.
"Our last vendor didn't make me really happy. I would ask for a quote and wouldn't receive it for weeks," said Baedke. "It was frustrating because we were trying to expand our system and it was taking longer than I would have liked, so I reached out to Avigilon for a list of integrators to consider and Inteconnex was one of them."
Safety is paramount for Marshall County and the Avigilon system provided the security and ease of use Baedke's staff required, thus it was key for them to use an Avigilon integrator like Inteconnex. "We already had Avigilon cameras in place and were planning to expand our camera system. We like Avigilon because it is easy to use and my staff and our IT staff can install it themselves for affordable future growth. Additionally, our access control system builds on the Avigilon platform and migrated into the existing security system so it was critical to stay with Avigilon to leverage the investment we had already made," said Baedke.
Marshall County continually evaluates its security controls for expansion and improvement as budget and technology allow. "We are responsible for the safety of the public and workers in our buildings as well as the security of inmates we are transporting and housing. With the Avigilon system, in addition to camera footage and stored access of video, we also use door controls which allow us to keep a record of door access—who accessed what and when," said Baedke.
Solution
Inteconnex was selected to provide Marshall County with access control and video surveillance using Avigilon systems for its five story County Courthouse, jail and county engineer building. For Baedke, the relationship hinged on communication and responsiveness. Inteconnex was on a trial basis and passed with flying colors. "Because of our past experience with our other vendor, Inteconnex was on a trial basis and didn't even know it. I had high expectations for communication and response and Inteconnex has exceeded those expectations," said Baedke. "Inteconnex has delivered—they've provided a good product in a timely manner."
Two weeks after Inteconnex completed installation in Marshall County, an EF3 tornado took the spire and damaged the top floor of the historic courthouse. While Baedke admits that the tornado was a catastrophic event, he has found a silver lining. "We had a very good insurance policy so we don't have a lot of liability to rebuild. This is giving us the opportunity to expand and upgrade our security and access systems even further."
The new Avigilon HD camera system gives the district peace of mind and foundation on which to grow. Shahan shared, "The Valley has low crime, but we are not immune—we wanted better surveillance. We wanted security that we could actually use successfully and that was flexible to current needs and could grow over time. Also, we live in a litigious society so it's good to be able to record events for future playback/review. With the new camera system, we wanted quality video and accessibility across the district. For example if the superintendent wanted to view various buildings from his office. We don't currently have a centralized security department at this point, so oftentimes it's the secretary or administrator managing it for each building. Therefore, the system has to be intuitive and easy to access."
Benefits
In addition to communication on current and upcoming projects, Baedke values the level of professionalism and organization that Inteconnex brings to the relationship with Marshall County. "It's nice to deal with a company that keeps quality records so I know if I bought a batch of 12 cameras, I can call and they can tell me what I bought if I want to order X more of the same kind," said Baedke.
The security camera system affords Marshall County employees with convenience and better security. "Our courthouse staff can be in their offices and still view areas of the courthouse and recognize that someone could be an issue. This information allows them to respond quickly from any area of the building. That has a huge impact on the level of security we can provide," said Baedke.
Why Inteconnex
The relationship with Marshall County "separates Inteconnex from the pack. Marshall County had a couple of larger national integrators that they were working with prior and we are able to move more quickly," said Casey Brandhorst, Business Development Manager at Inteconnex.
"Inteconnex continues to exceed our expectations through the personal service they provide," said Baedke. "I get random calls from Casey just checking in or following up on something we had discussed earlier that he has looked into or has a solution for."
In addition to communication and providing bids in a timely manner, Baedke values Inteconnex's hands-on approach. "Inteconnex actually came out and surveyed the buildings—they understand what we do and what our buildings are like. They can provide better solutions that are based on our actual footprint," said Baedke. "Their solutions are based on real information about our buildings and operations."
About Inteconnex
Inteconnex is a leading security integrator with offices in Iowa, Nebraska and Colorado. The company designs and installs comprehensive security environments with customized and fully-networked capability. The highly trained staff at Inteconnex has roots in information technology, providing customers with unrivaled technical expertise, service and the highest performing systems for today's increasingly complex and networked world of advanced security.
I appreciated the unique approach Inteconnex took with updating our access control system. They leveraged our IT infrastructure to develop a smarter, more secure solution—one that will grow and adapt with our organization. Their technical expertise and customer support are beyond compare.– Rod McCool, Director of Security, Mercy Medical Center