Local Government Case Study
City of Lincoln Solid Waste Management
An Innovative Security Solution to a Costly Problem at Remote Recycling Centers
The City of Lincoln turned to the Inteconnex team to provide a custom video surveillance system in order to mitigate and litigate illegal dumping at their recycling facilities. 
The City of Lincoln Transportation and Utilities Division/Solid Waste Management and Recycling Office oversees several recycling sites set up across the City of Lincoln, Nebraska. Illegal dumping has plagued the sites and staff was looking for a solution to remediate the problem and prosecute those responsible. Inteconnex has been the preferred provider of access control and video surveillance equipment to the City of Lincoln since 2010.
Willa DiCostanzo is the Waste Diversion Coordinator for City of Lincoln Solid Waste Management. DiCostanzo's 30-person department is tasked with operating the landfill, compost sites, managing construction and demolition, and operating several community recycling sites (one in each quadrant of the City).
The City of Lincoln was faced with systemic illegal dumping at its recycling sites. Because of the increase in crime, Willa's department began updating the municipal code language to allow them to prosecute for illegal dumping. However, they needed to catch the people doing the dumping with evidentiary quality video. "Illegal dumping is very costly, stuff has to be picked up and dealt with, sometimes requiring additional equipment and staffing," said DiCostanzo. "It's very time consuming, costly, and it hurts the entire process of recycling." DiCostanzo shared that the City has had to dedicate two temporary workers for a combined 60 hours a week to clean up illegal dumping.
The remoteness of the recycling sites created an additional challenge for the City when considering a camera solution. Willa turned to Inteconnex for a solution because it was already a trusted vendor for the City of Lincoln.
According to Jeff Schulz, Sales Engineer at Inteconnex, "The challenges for this installation included a lack of good lighting at night so that a camera can identify colors and objects, constant electricity to power the cameras and communications, and network or internet access to get the alerts and video out to a central office or monitoring station. Since the City utilizes a common video management system for all its facilities and parks, the remote site solution needed to integrate with that system."
With the City's goal of mitigating and litigating illegal dumping in mind, the solution Inteconnex recommended for catching these events in real-time and obtaining evidence for prosecution, was to install law enforcement-grade cameras at each recycling location. The City of Lincoln purchased an Avigilon multisensor camera along with a remote recording/communications enclosure that Schulz designed himself. According to Schulz, "We were not able to find an off-the-shelf product that would check off all of the customer's requirements. It needed to require low power consumption, provide high resolution video day or night, record locally, send alerts, allow remote access, provide live video if necessary, and integrate with their current Avigilon Video Management System. We were able to demonstrate the functions and features of the camera and knew of other devices we could package together to provide a solution at a reasonable price. And they trusted us to follow through."
DiCostanzo is grateful for Inteconnex's ingenuity and expertise during the design process.
"We had a complex situation and they helped us strategize a solution that met our goals and budget."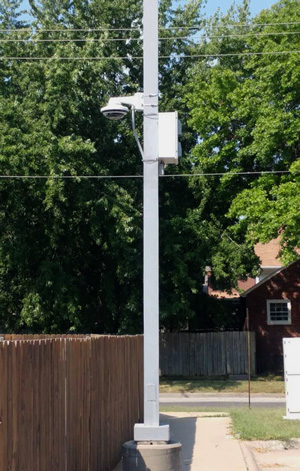 Within a few months of the video surveillance system implementation, DiCostanzo was already experiencing the benefits. "You can call up video if one of our driver's has issues or we've had some weird bottles dropped off—so I pulled up the video to see who did that and reached out to determine what was in the bottles."
Another benefit to DiCostanzo is having the City of Lincoln set an example for other communities. "One benefit is the sheer fact that we can be a case study for other communities dealing with illegal dumping. There was an Ohio site that inspired me to investigate grant funding to help pay for some of this technology investment to prevent illegal dumping."
DiCostanzo initially reached out to Inteconnex because of the company's previous work with the City of Lincoln and the Lancaster County Sheriff's Office. The Inteconnex team's approach impressed DiCostanzo from the very first meeting. "I called and Jeff and Matt were in town and wanted to meet. So, with the first phone call, I have them in my office talking and brainstorming with me about things that I didn't even know we could do,"
"Using their expertise and creativity, they were able to come up with various components to put together a system that works in our remote, rugged environment and yet provides the quality of video that we need to pursue legal action,"
"I appreciate the time and dedication that Jeff has given to this project to come up with a solution that will work for our remote sites."
Additionally, DiCostanzo appreciates the ongoing customer service the Inteconnex team provides. "I have someone to call and give me their honest opinion—they're not trying to sell me. They come from a place of intent and purpose."
Inteconnex is a leading physical security integrator with offices in Iowa, Nebraska and Colorado. The company designs and installs comprehensive security environments with customized and fully-networked capability. The highly trained staff at Inteconnex has roots in information technology, providing customers with unrivaled technical expertise, service and the highest performing systems for today's increasingly complex and networked world of advanced security.
Ready to get started?
Connect with a Security Expert