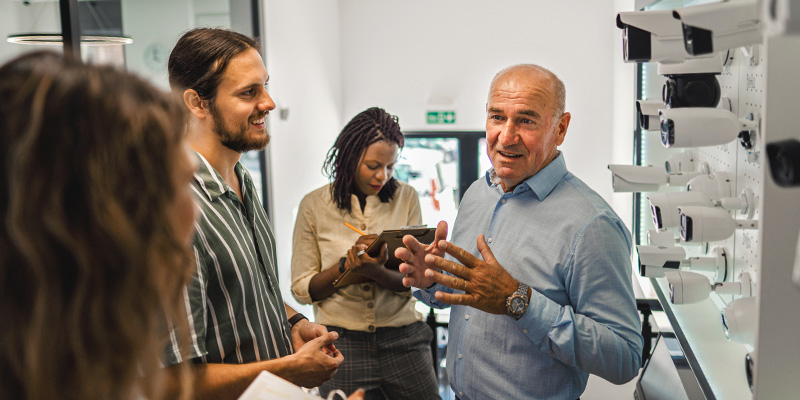 Partnering with a Security Systems Integrator
Security is a top priority whether you manage a hospital, office building, government agency, or school district. To ensure you are utilizing your security system correctly and getting the most protection, it's crucial to work with a security systems integrator. These experts bring a wealth of knowledge and experience to the table, enabling organizations to implement robust security solutions tailored to their specific needs and budget. In this article, we'll explain what role a security systems integrator plays and how your business or organization can benefit from partnering with one.
What is a security systems integrator?
A security systems integrator is a specialized provider that designs, installs, and maintains security systems for organizations. Different from a security system installer, an integrator's role involves understanding the unique security requirements of a business or organization and integrating various security components such as access control, video surveillance, intrusion detection, computer networks, and emergency notification systems into a cohesive and efficient solution. Their expertise ensures that all systems work seamlessly together, maximizing security effectiveness.
There are different levels of integrators – some companies specialize in design and installation, while others are considered full-service providers, supporting every phase of the security system lifecycle from initial assessment to ongoing training and support.
What are the advantages of working with a security systems integrator?
Comprehensive Security Solutions
One of the primary benefits of working with a security systems integrator is the ability to implement comprehensive security solutions. These integrators take a holistic approach, considering all aspects of security to create a cohesive strategy. By integrating different systems, such as access control, video surveillance, and alarm systems, they enable organizations to have a centralized view and control over their security infrastructure. This integrated approach enhances overall security effectiveness, reduces response times, and minimizes vulnerabilities.
Expertise in Technology Integration
Security technology is rapidly advancing, with new innovations emerging regularly. Keeping up with these advancements can be challenging for organizations. However, security systems integrators, like Inteconnex, specialize in staying up to date with the latest technologies. They possess the knowledge and expertise to seamlessly integrate diverse systems, ensuring compatibility and interoperability. By working with an integrator, organizations can leverage cutting-edge security technologies, such as IoT devices, AI-based analytics, and cloud-based solutions, to stay ahead of potential threats.
Cost-Effectiveness and Efficiency
Cost-effectiveness is a critical factor for any organization. A security systems integrator can help optimize security systems to achieve cost savings. By carefully evaluating the needs and budget of an organization, they can recommend the most efficient and cost-effective solutions. Additionally, the centralized monitoring and management provided by integrators streamline operations, leading to improved efficiency and resource utilization. Through their expertise, organizations can achieve a balance between cost savings and robust security measures.
Compliance and Regulatory Requirements
For large enterprises and government entities, compliance with security regulations and industry standards is essential. Failure to meet these requirements can result in severe consequences, including financial penalties and reputational damage. Security systems integrators possess in-depth knowledge of the regulatory landscape and can design and implement solutions that meet these requirements. By working with an integrator, organizations can navigate complex regulations with confidence, ensuring their security systems are compliant and up to industry standards.
Realizing the ROI
Partnering with an integrator is an investment that yields tangible returns. Organizations benefit from reduced risks, cost savings, increased operational efficiency, and compliance with regulatory requirements. The measurable improvements in security outcomes justify the investment and contribute to long-term success.
Choosing the Right Integrator
When selecting a security systems integrator, there are several things to consider. Look for a provider with a proven track record with vendors. A good integrator will have a variety of product lines, because they understand that a hospital will have different needs than a commercial office. If you require NDAA-compliant components, an integrator will be aware of that too. Experience in information technology and networking is also a plus. Knowledge of cybersecurity best practices, networking capabilities, and custom programming allows for better security outcomes. Also consider their expertise in your specific industry or sector. A successful partnership with a security systems integrator requires open communication, collaboration, and transparency.
By partnering with a reputable security integration company, your business or organization can strengthen its security and proactively protect people, property, and assets. The Inteconnex team is here to assist with your most complex physical security needs. For more information on how we can help you protect what matters most, contact us today!